Morning
The morning is a quiet, spiritual time on Mt. Tam. The sun rises over the bay.  A fire warms the Mountain View Room.  And you enjoy coffee, tea, fresh orange juice and a cooked-to-order Breakfast, complimentary with your overnight stay.
Afternoon
The afternoon brings hunger earned from a hike on Mt. Tam.  Our Lunch Menu offers fare that's fresh and lovingly prepared. Following lunch, we take a half-hour break to prepare for our Bar Menu.
Evening
The evening changes the very air of the inn.  Candles are lit, fires are set and far-off city lights come into view.  And our chef's finest is on display in a three-course Dinner Menu with choices and optional wine pairing within each course. Call 415.381.9000 to reserve.
Private Parties
The Inn is a perfect place to host a private event.  Let our Special Events Coordinator Sarah Reed handle all the details for your party. Contact her by filling out this Form.
---
Breakfast
8am - 11am, daily to overnight guests
Sat-Sun open to general public.
Wednesday - Sunday
Lunch 11:30am - 3pm
Bar Menu 3:30pm - 8pm
Dinner 5:30pm - 8:30pm
Mondays
We are closed Mondays during the winter.  We re-open next spring.
2013 Exclusive Use Closings
Please note, at 2:00pm on the below dates,
the inn stops service to the general public:
Sat. April 13
Sat. May 18
Sat. June 1
Sat. June 29
Sat. July 20
Sat. Aug. 3
Sat. Aug. 24
Sat. Sept. 7
Sat. Sept. 14
Sat. Sept. 28
Sat. Oct. 5
Sat. Oct. 19
---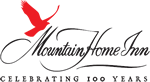 Mountain Home Inn
810 Panoramic Highway
Mill Valley, California 94941



415.381.9000

Email
Directions
Book Online